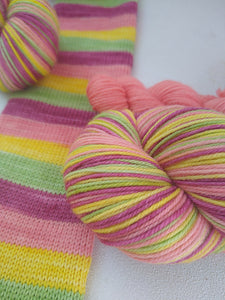 In the heat of summer, sometimes you need a refreshing yarn with exhuberant colors. National Punch Day is celebrated every September 20 and was the 2022 Little Known Holidays yarn club colorway, now available for the first time. Gather around a party table, or knitting circle, and enjoy some wild, sugary fun!
Wide, even stripes of Cherry, Pink Lemonade, Pinapple, and Green Sherbet.
This yarn is ready to ship, but if you'd like to add a 25g mini skein, we can dye one for you with the default color being Pink Lemonade. Other colors are available upon request. Just a leave a note in your cart with which color you'd like. 
Would you like your yarn cranked into a sock tube so you just have to add heels, toes and cuffs? 
CORRIEDALE SOCK
Fingering weight, 3 ply
75% Superwash Corriedale/25% Nylon
4 ounces/115 grams
434 yards
MERINO/NYLON 
Fingering weight, 4 ply
80% Superwash Merino/20% Nylon
4 ounces/115 grams
434 yards
Made in the USA
TARGHEE FINGERING
Fingering weight, 3 ply
90% Superwash Targhee/10% Nylon
4 ounces/115 grams
466 yards
Made in the USA
Yarn is dyed and heat set with professional acid dyes. All effort is made to exhaust the dyes, but some color bleeding may occur on initial washings. Cold water is recommended. Multiple skeins are available under this listing and, due to the nature of hand dying, colors may vary slightly from the yarn pictured.