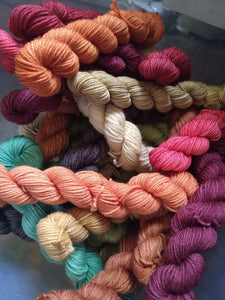 Please note: this listing is for adding a mini to a whole skein that you are purchasing right now. I do not have the capacity to dye minis for previously purchased yarns. Thank you for understanding.
Dyed to order 25 g contrasting mini skeins to match your ready-to-ship skein of yarn. Or, additional minis for preorder yarns if one is not enough. I'll match the base and default mini color of your yarn, but if you'd like another color instead, please let me know! Minis will ship within 2 weeks of order for ready to ship yarn. 
If you are ordering more than one skein of yarn, and it's not obvious, please let me know what colors the minis should be.
Yarn is dyed and heat set with professional acid dyes. All effort is made to exhaust the dyes, but some color bleeding may occur on initial washings. Cold water is recommended.