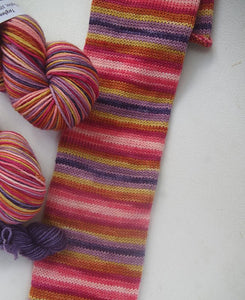 This listing is available only to club members who received a skein of I'd eat That by The Goats for the August 2023 shipment.*
Hello Club Member! I am so pleased you enjoyed this month's club shipment and would like to order more. You can choose the self-striping on any base, or to have a mini or full skein of any of the stripe colors (please just leave me a note telling me which color(s).
Yarn will be dyed to order and ready to ship with your next club package. Please use coupon code SHIPWITHCLUB when you check out so that you are not charged shipping.
If you will not be receiving a yarn club shipment next month, please check out as normal and your yarn will ship as soon as it is ready.
Thank you again! Please contact me at jsmoskal@gmail.com if you have any questions.
*Just a note, that I hope I don't ever have to actually refer to: if you happen upon this listing and were not a member of the club that received this yarn, please don't order it. If you do, your order will be cancelled and partially refunded - minus the processing fees I can not recover. It will just be silly and make me feel icky. Thanks for understanding! This yarn will be available to non-club members in one year.